Mission
Founded by conductor, Cesare Civetta, The Beethoven Festival Orchestra is committed to offering affordable performances ($18) of symphonic music to diverse audiences.

The Orchestra
A truly integrated orchestra, comprised of young virtuoso musicians of the highest calibre.
Programming
The orchestra is embarking on a music video project of Shostakovich's profound masterpiece, his Babi Yar Symphony, his musical setting of Yevtushenko's poem about Babi Yar, the site of the single most horrific massacre of the Holocaust.
Civetta is committed to performing a diverse repertoire in celebration of a multiplicity of cultures.
Diversifying the Audience
In her book, Invitation to the Party, Donna Walker-Kuhne writes about the arts being "the only tool we have that successfully crosses ethnic and cultural barriers, bridges misunderstanding, erases social strife and celebrates diversity…When diverse groups of people come together and experience the arts as one…they develop an appreciation for our shared humanity. Making the arts accessible to as broad an audience as possible helps build a better society."
There is a glaring lack of diversity among classical music audiences. Our vision is performing for all ethnicities, ages, and races, for audiences as diverse as a crowded New York City subway platform during rush hour.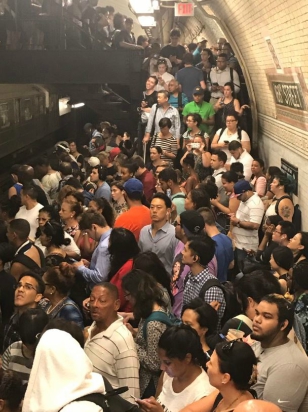 Performances of symphonic music are often inaccessible, because of the exorbitant ticket prices for good seats. The box office receipts of organizations that charge up to hundreds of dollars per seat only cover a small part of the costs. We wish to make performances more accessible. By charging $18 for all tickets, the cost of admission will no longer be an obstacle.
Why is it named after Beethoven? Because when he was 31 he made it clear that he didn't consider his music to be for the exclusive enjoyment of the aristocracy who partially subsidized him, but for everyone!
Youth Engagement Program
Our goal is to reach out to communities that have little or no experience with this kind of music, especially teenagers and millennials, by providing educational events. We wish to stimulate interest and engender the feeling among youth that they belong at the events by bringing small groups of performers to schools, particularly in underserved communities. Young soloists will often be featured.
The Audience Experience
The orchestra aims to forgo unnecessary traditions and formalities, thereby improving its attractiveness and accessibility.
The orchestra will frequently play in venues that have reverberative acoustics, and ideally will perform in the center of a venue, allowing for 360-degree raked seating.
Since all seats will be the same price, there will be open seating, and during performances, audience members may change their seat locations to experience the concert from different vantage points.
Interesting information about the composers and their music will be shared before each performance, with the orchestra demonstrating sound bites to familiarize the audience with what they are about to hear.
Applauding in between movements will be encouraged!
Creating a natural, welcoming atmosphere we especially want the youth to feel comfortable coming in t-shirts and sandals, the orchestra will not wear formal, monochromatic attire, and the audience may bring drinks and snacks into the concert to enjoy during the performances.
Large screens will display cutting edge music videos to accompany the performances combined with live streaming videos of the performers. The words to vocal, hip-hop, and choral music, will also be displayed on the screens.
Chorus and Children's Choir
The organization serves as an umbrella for a 200 voice volunteer chorus to performing great choral repertoire with the orchestra. The orchestra alsp features dancers and its own children's choir.
Young Conductors
The BFO will provide internships and assistant responsibilities for young conductors, in addition to offering workshops and master classes in orchestral, choral and operatic conducting.
Fundraising
One of our fundraising strategies entail a strong social media presence featuring a series of short videos to create enthusiasm about the orchestra and to enable donors to learn about the individual journeys of the young artists: freelancing, auditioning for orchestras, entering competitions and challenging paying off student loans. In addition to grassroots fundraising, we will seek financial assistance from organizations such as foundation, corporate and governmental sources.
Conclusion
In ancient Greece and China music was a keystone in society. Music is perhaps the most powerful language, transcending time and space by uplifting and inspiring us when we're sad, calming us when we're anxious, and healing broken hearts. The Buddhist philosopher, Daisaku Ikeda, wrote that music has the power "to move audiences to jubilation, penetrating their hearts with vitality and hope." It's so exciting to create an orchestra that will bring communities together and be a clarion call for peace.
Music has the potential to effect change in a community. We want to create an orchestra that breaks free of its museum-like setting by placing it directly in the maelstrom of the contemporary world in a socially engaged manner. We intend for the orchestra's events to be relevant to today's crucial issues, such as violence, war, mass shootings, terrorism, racism, xenophobia, and corruption. Therefore we seek to commission new music about peace and justice collaborating with poets, painters, dancers, filmmakers, spoken word, hip-hop and rap artists to raise awareness about the sanctity of life.
Cesare Civetta
Cesare Civetta
has conducted over 60 orchestras in 15 countries with sold-out performances at Lincoln Center and Madison Square Garden. His concerts have been broadcast on ABC, CBS, NBC, National Public Radio, Swedish Radio, Voice of America, and the South African Broadcasting Company.
Read More

Home Events Blog Videos Bio Cesare Civetta Interview Orchestras Testimonials Contact